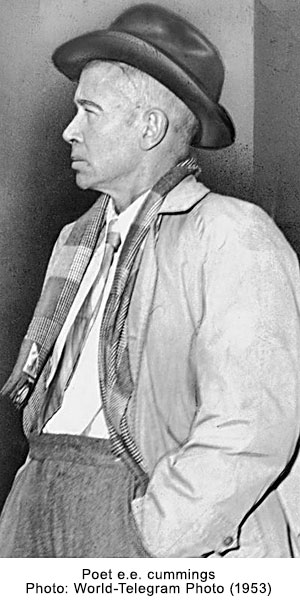 The Forest Hills Cemetery and the Forest Hills Educational Trust welcomes author and historian Dee Morris for a Sunday afternoon cemetery walking tour
Sunday, September 23rd at 2PM
Innovative poet e.e. cummings (b. 1894) loved to play with words, syntax and punctuation. Readers delighted in his provocative defiance of convention. Our stroll will celebrate this exuberant non-conformist who shares eternal rest with his third wife as well as other family members. Susanna Rowson (b. 1762), a best-selling author and cummings' ancestor, is also memorialized. Along the way, we will honor Boston originals such as Abby W. May (b. 1829), unstoppable reformer, plus Lucius Manlius Sargent (b. 1826), an artist turned surgeon.
Join us for a fresh look at this amazing Forest Hills community.
Admission:
$10 for advance tickets
$12 day of the tour
This Walking Tour lasts up to 90 minutes with frequent stops over varied terrain. Meet at the Visitor's Circle just inside the main gate. Please wear comfortable walking shoes and bring water.
Dee Morris is a noted local historian who explores and documents the diverse social history of 19th century Greater Boston. Author of Boston in the Golden Age of Spiritualism: Séances, Mediums & Immortality, and Medford: A Brief History.