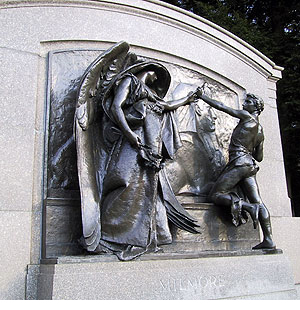 The Forest Hills Cemetery and the Forest Hills Educational Trust PRESENT
A WALKING TOUR EVENT — with author and historian Dee Morris

Saturday, May 12th at 2PM
Established in 1848, Forest Hills Cemetery is one of the outdoor treasures of Greater Boston. Victorians created this sacred landscape in order to memorialize their loved ones. These enlightened citizens also designed a park-like setting in which the living could enjoy nature, works of art and beautiful monuments. Sculptures range from the delicate marble statue of little Grace Sherwood Allen (1876-1880), named The Girl in the Glass, to Martin Milmore's pensive Citizen Soldier (1867), one of the earliest and most powerful depictions of a Civil War patriot. A bronze masterpiece by Daniel Chester French, Death and the Sculptor (1893), greets visitors entering through the Gothic Revival front gate, providing an awe-inspiring introduction to the 275 acres of winding paths and leafy vistas.
Placed on the National Register of Historic Places (2004), this cemetery has always served Boston residents no matter what their background or accomplishments.
Preservation of the art as well as diligent care of the natural environment is an ongoing challenge. Excelling well into its second century, Forest Hills Cemetery refreshes, enlightens and enriches the spirit.
Admission:  $10 for advance tickets; $12 day of the lecture
This Walking Tour lasts up to 90 minutes with frequent stops over varied terrain. Meet at the Visitor's Circle just inside the main gate. Please wear comfortable walking shoes and bring water.
Dee Morris is a noted local historian who explores and documents the diverse social history of 19th century Greater Boston. Author of Boston in the Golden Age of Spiritualism: Séances, Mediums & Immortality, and Medford: A Brief History.